About
Welcome to our site! We are a Folk Music Revival band in Vienna. Think polkas, klezmer, trad. folk (from the British and Irish isles), Americana…. guaranteed to get your feet moving!
We have been playing together in various forms for more than a decade and decided to branch out as our own band in 2019. We come from various backgrounds and totally different cultures but we all share a common passion for exciting folk and world music.
An international band, we have a diverse repertoire of folk standards, but we have also taken great pains to veer off the beaten path and forge our own arrangements of old tunes and new. We also constantly seek out new tunes to learn, indeed some very obscure numbers have made themselves very comfortable firm favourites in our live sets.
We are based in Vienna, Austria (CET+1) but we are certainly willing to travel, given the right opportunity! Drop us a line and get in touch if you are interested in booking us to play at your upcoming event.
Band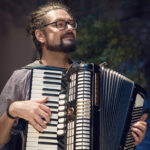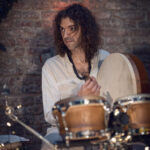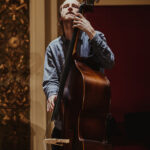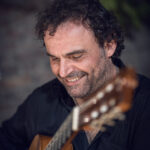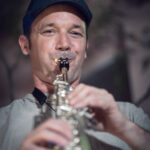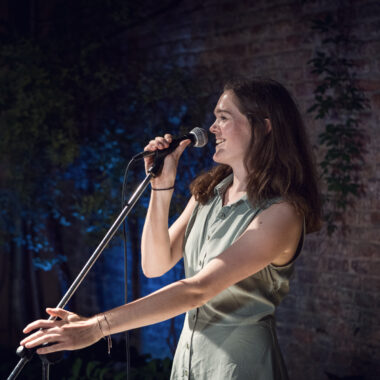 Cecilia
Voice/Percussion
A British singer and our very own 'Rita' (the name of the band is inspired by Cecila's Grandmother). Hailing from Norfolk, England, Cecilia is the veritable main singer of the band and is a devoted fan of the folk music tradition.
When not entertaining crowds at busking sessions, weddings or impromptu pop-up concerts with the other Runaways, Cecilia is a Teacher for the Vienna upper school system. She also sings in with the Loyola Voices choir of Vienna.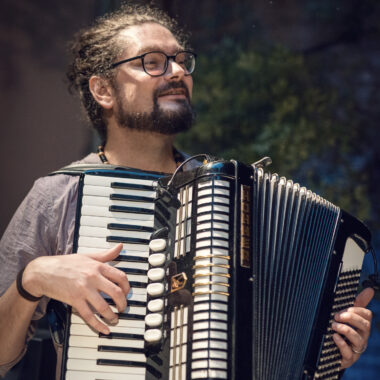 Mark
Accordion/Piano/Voice
Mark is a British musician working as a film composer and arranger. He formed 'Rita and the Runaways' to be able to play more often with his favourite collaborators, who often frequently record for him on his various film score assignments; for more info about this check out Musitecture.
He has also been part of the Vienna Konzerthaus Education Ensemble for over a decade, having first joined the ensemble following an chance introduction to Rafael after a concert back in 2010.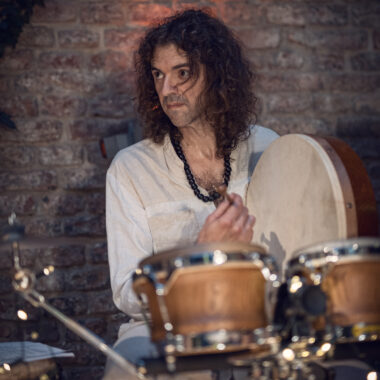 Lorenzo
Percussion/Drums/Voice
Lorenzo is the passionate Italian pulse of 'Rita and the Runaways'; A grooving force of nature, he has studied ethnic percussion and musicology internationally and performs worldwide festivals with well known artists. His knowledge of authentic world music rhythms is extensive and he often keeps the band from veering too far off course with our new arrangements of traditional music.
A prolific educator and 'musician motivator', Lorenzo is also the musical director for the Austrian branch of the Batala Salsa movement; a marching percussion band with scores of performers. They are often seen in and around Vienna supporting events with their boundless energy and 'gute Laune'.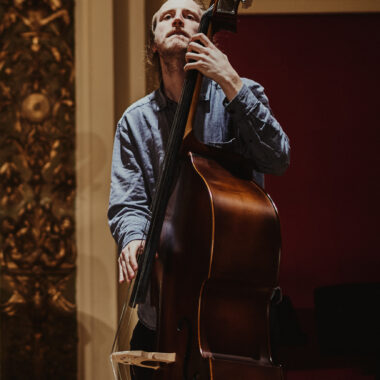 Martin
Martin is a viennese electric- and double bass player. After his degree of his Bass Studies at the Vienna Music Institute and the 'Hochschule für Populäre Künste' in Berlin, he always dreamed of being part of such a Folk Band as the Runaways, whose style of music he always admired.
After their first gig together at Hostel Ruthensteiner in Vienna's 15th District, Martin felt at home in the multifaceted group of Rita and the Runaways. His musical background is very colourful – besides Rita he's also the keeper of the deep tones for the viennese Modern Jazz Trio 'PRIM', the Electro Indie Band 'Mink' from Berlin, the Jazzband 'Djicpe and the Riders' and many others.
Rafael
Guitar/Mandolin/Voice
Rafael is an important element to the foundation of the band; He initially collected an ensemble together to work as the education and outreach initiative at the Vienna Konzerthaus. Many years later, we are all still very close friends and are now 'Rita and the Runaways'. His mixed Mexican/Austrian heritage makes him the perfect candidate to lead not only our latino repertoire performances but also our 'Wiener Lieder' collection of traditional Austrian folk songs.
An Accomplished classical guitarist, but also extremely competent arranger and choir leader, Rafael's skill set is diverse. He also heads up the Latino crossover Rock/Ska/World Music banda Pacheco.
Emanuel
Saxophone/Flute/Voice
Emanuel (Mani) is the bringer of Klangfarbe. He is a versatile and brilliant improviser, but also a firm and reliable band member who keeps us all entertained with his heart warming woodwind solos. He is an accomplished choir singer, having been a former student of the prestigious Vienna Choir Boys school (Wiener Sängerknaben) and member of touring choirs worldwide.
Emanuel is also a long term member of the Vienna Konzerthaus' education and outreach team where he also performs regular concerts with the Wiener Singakademie.
Contact
Drop us a line!
Feel free to get in touch should you have any questions about our availability, repertoire or just to have a chat about all thinks folk music!
You can reach us on +43 699 1725 7835, or by emailing us. Alternatively, you can use the form here to easily contact us. Regardless how you choose to get in touch, we will endeavour to reply to your request at the earliest convenience.
We are cautiously hopeful that 2022 will see the end of the corona measures that have limited our live performances. We are taking bookings now should you be looking for a band for your long awaited event!